Content:
Registration and connection of the exchange at 3commas.
Principle of QFL Signal Formation.
Setting up a bot using QFL signals at 3commas.
Registration for 3commas.
The service is available at the link 3commas.io, this is my referral link, it will give a 10% discount on payment.
After registration, you will have access to 3 days of free service at the "Professional" tariff with all the possibilities. And if you are already registered and / or 3 test days have already passed, then you must select one of the subscriptions.
To work on QFL signals, it is most convenient to work with composite bots and I will describe all further settings for it, they are available in the "Professional" tariff, which expands the capabilities of the service, you can read about all the advantages of this tariff over others yourself.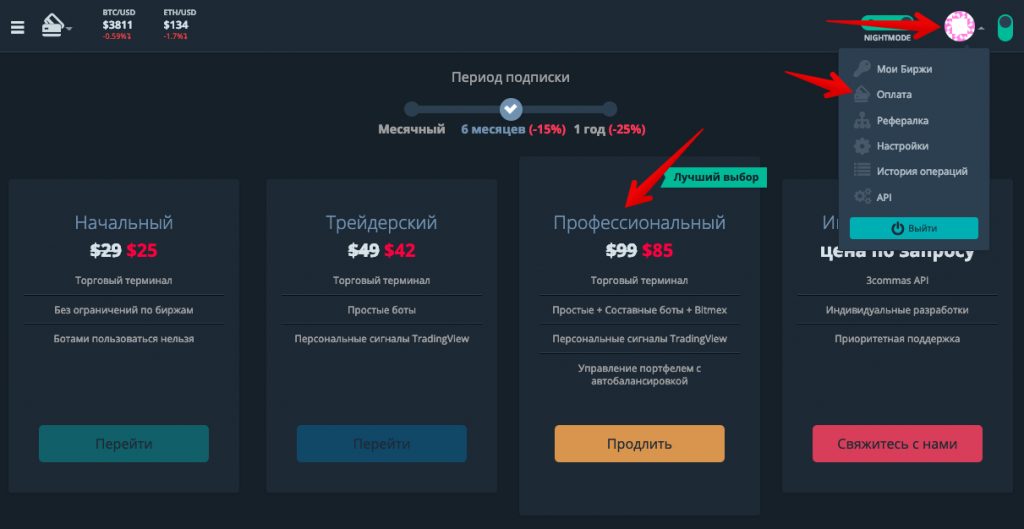 After registering with the 3commas service, you need to connect the Binance exchange via API, read how to do this here
How to create an API key for Binance is written here
2. The principle of the formation of QFL signals.
To understand the principle of the formation and operation of these signals and to convey information in a concise and understandable form, this article. I will try to describe very briefly how it works, otherwise it will turn into a scientific article, but you can figure it out on your own in more detail..
The principle of operation of QFL signals: there are zones where the price is most often located – this is the base. If the price goes below the so-called base, then there is an increased likelihood that it will return there..
Signals arrive on the site https://cryptobasescanner.com
There is a phone app.
3. Setting up a bot using QFL signals at 3commas.
QFL signals are free for 3commas.io users, do not come as often as other signals, and this happens mainly when the market drops..
They appeared for 3commas bots a long time ago and at one time (summer 2018) it was a hit and a lot of them traded on them like me, but then I switched to trading on other signals, I don't remember for what reasons.
Recently these signals got my attention again thanks to @ roman506 who continued to test and work on them and helped me with the current settings, for which many thanks.
3commas has improved the bot's settings for these signals and now I consider them more conservative (read safe) than before.
I started testing them again on pairs for BTC on 02/21/19 and in 2 weeks the signals worked very well, by "good" I mean that they achieved the goals that I set for myself by setting them up, namely:
Lack of "investors"
Achieving profit + 3%
Some 2 week statistics:
Signal
Open

deals

Closed

deals

Wed time

closing a deal

Wed Profit
QFL
ten
ten
8:23:45
2.9% *
* profit below 3% is associated with the use of trailing in the bot, but I will write about this separately.
The theory with history is over, and now to the practice of setting up the bot.
Create a Composite Bot:
Once created, we begin to configure: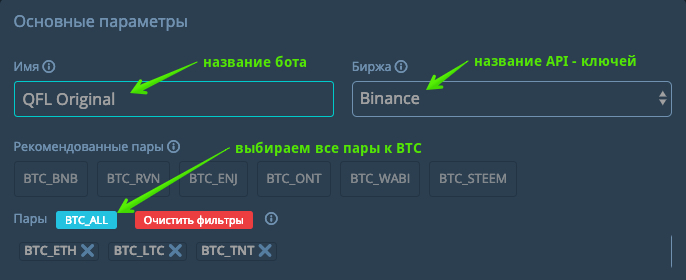 After you select all pairs it will be like this: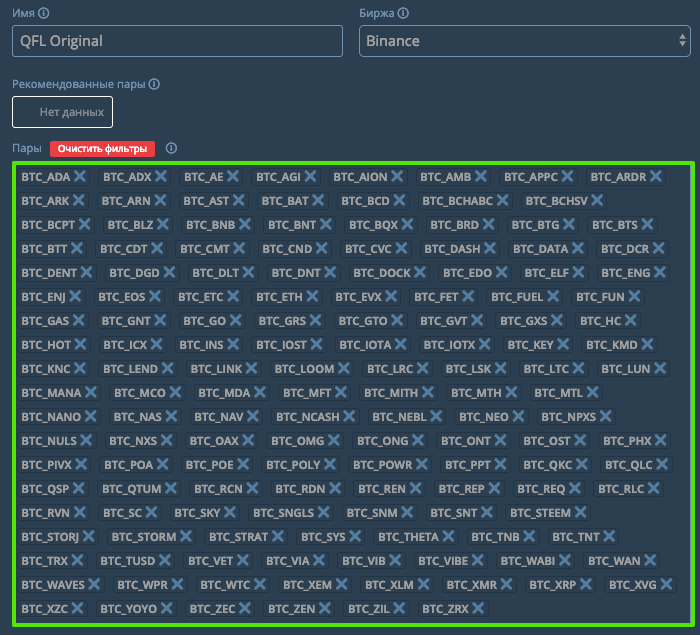 Let's go further through the settings: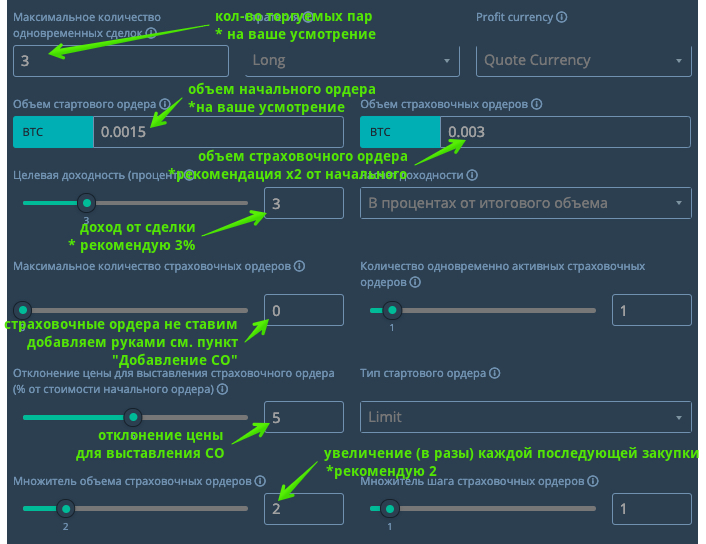 Explanation: at this point in time (March 2019) I do not use safety orders (hereinafter CO) and work 100% of the deposit, which is quite risky and may not be suitable for your trading strategy, in this case, set up the bot to 60-70% of the allocated for this very deposit bot, and use the remainder for before purchasing coins at lower prices (average the purchase price), but my advice is not to rush to buy, perhaps the price will go even lower, let the coin "cool down, find support" and only after that average. This can be done in two ways in already open deals:
1 way. By adding CO

Method 2. Averaging button

We go down below and continue to configure: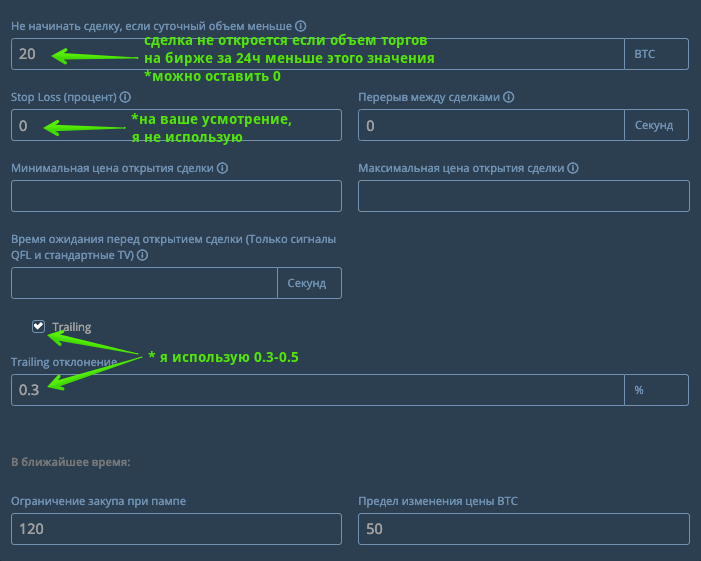 Choosing a signal to trade QFL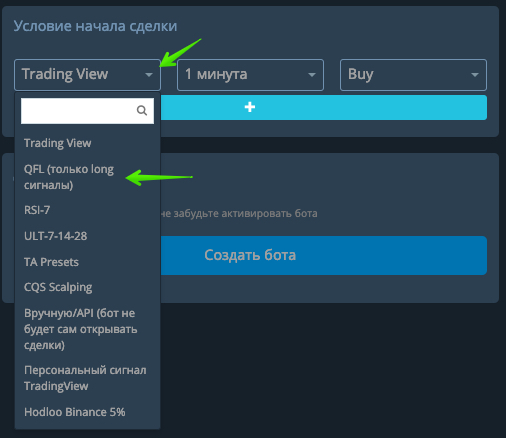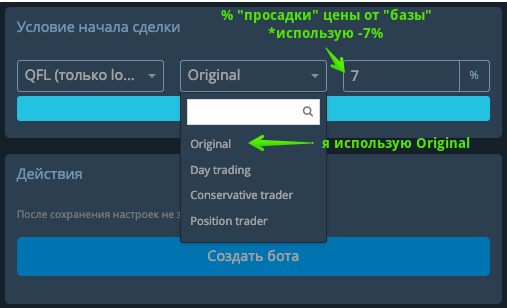 Comment: I did not find a description and difference (during tests in summer 2018) between the types (Original, Day trading, etc.), so I use Original. If you find information or understand it by tests, let me know it will be extremely interesting.
"% Of drawdown" in the bot settings, the statistics of which I have provided above, I use -7% I set up another one at -10%, but no deals have been opened on it yet.
After setting all the parameters, we check the values ​​in the Assistant, if your "Percentage of funds used by the bot" is more than 100% then you need to reduce the Initial or safety order or the number of traded pairs.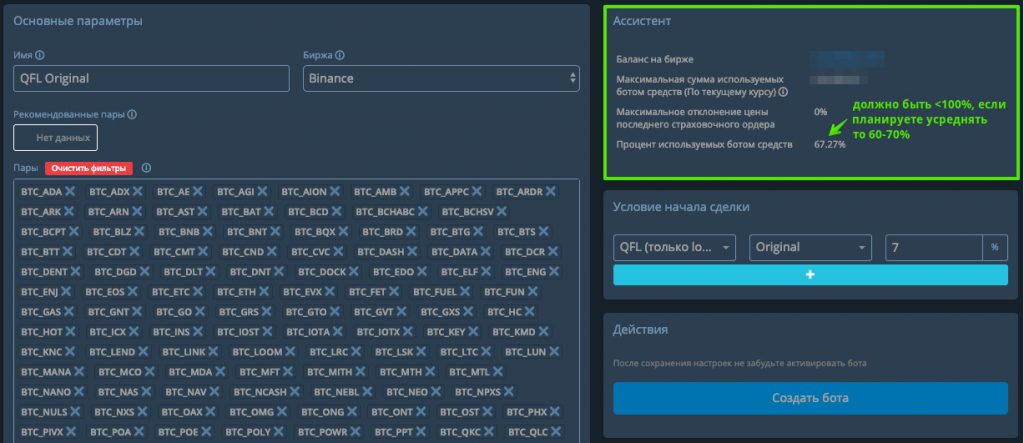 After all the above steps are completed, click "Create bot"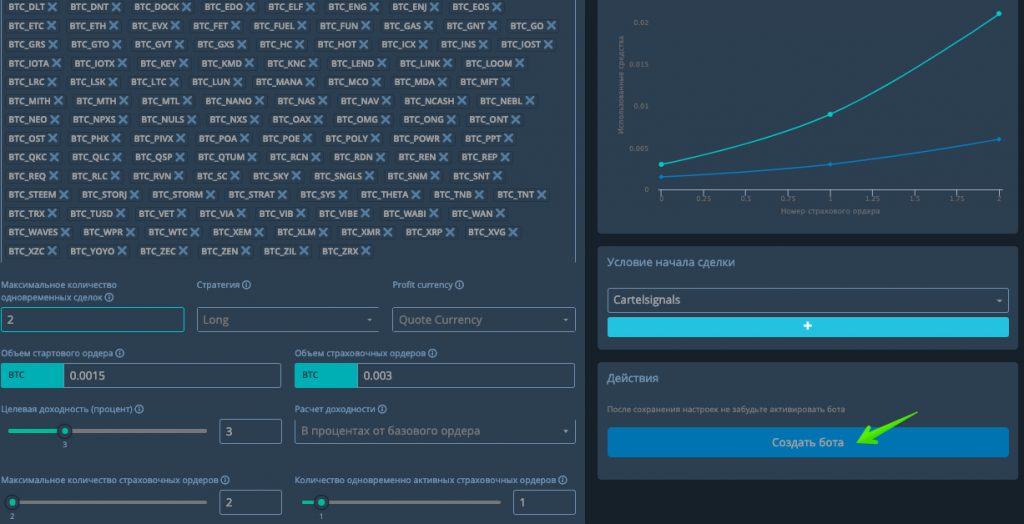 By clicking on the button above, a page will open on which you need to click "Run" and the bot will start working, wait for a signal and open deals, all operations can be seen by going into the bot and looking at the edit window: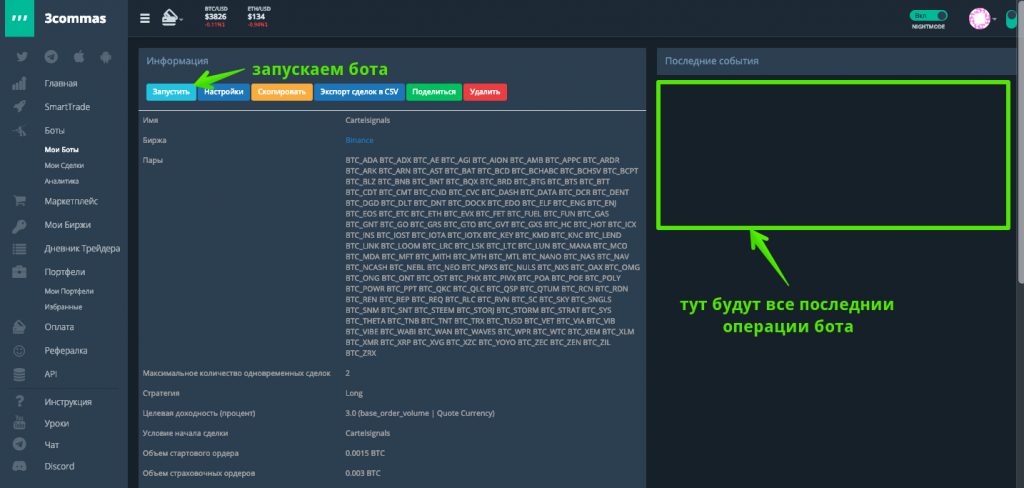 That's all for setting up the bot using QFL signals.
You can also see the description of the bot settings for Cartelsignals signals described by me earlier.