Good afternoon friends!
Today we have a new review. It's about the BitMEX cryptocurrency exchange. In previous articles, we looked at the Binance exchange, which does not have margin trading. For comparison, I would like to talk about how the site works, which has such opportunities. Let's get started!
As I already said, any margin trading is a credit trade with very high risks. In this regard, it is fundamentally different from conventional cryptocurrency trading. But working on BitMEX is also unique because it is BitMEX, that is, the exchange has a lot of its own, unlike anyone else's features..
But first things first. You may be surprised, but I want to start not with registration, interface and basic platform features, and not even with the main characteristics, but with reviews about it. Because it is they who today are one of the determining factors, due to which they either work with the exchange or refuse once and for all, considering a fraudulent site, a scam, or anything else..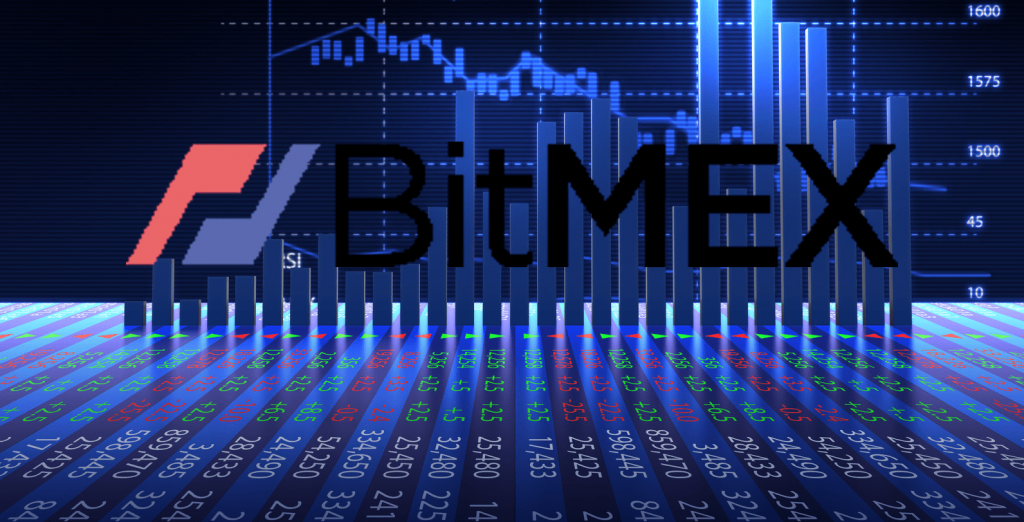 Reviews about the BitMEX exchange
Friends, the reviews are very contradictory, and this is mainly due to margin trading, huge leverage (X100) and high risks. That is, novice traders who come to the exchange, having read about the fact that here you can quickly get 1000% of the profit, register, put money on the exchange, drain the deposit, become disappointed and leave negative feedback.
There is nothing surprising here – there is no practice of margin trading. I would not pay much attention to such a review, because those who are not versed in margin trading have nothing to do here! I emphasize again: this review is for those who want to know how margin trading works, whether it is worth trusting the BitMEX exchange, as well as for those who have been successfully trading on conventional (non-margin) exchanges for a long time and want to try something new. If you have an initial level of knowledge and practice, a low level of stress resistance – I strongly advise you not to start trading on BitMEX, because with a 90% probability your result will be as follows:

We continue about the reviews, it's clear about the newbies. It is quite another matter when experienced or well-known traders write about the exchange, there are very loud scandals that BitMex itself works against its own users. This is already a real reason to think. Let's consider a few examples in more detail.
Suspicion of transactions against their traders
Information was published on the network that BitMEX was doing price manipulation and trading against users. This is how it was justified. Last April, when Consensus, a very well-known conference, was held at which Arthur Hayes (and this is the CEO of BitMEX himself) said: "To attract people to provide liquidity, we sponsored a project that will be in the quotes as soon as a new product is added. ".
Does this indicate that BitMEX is inflating and manipulating, its traders simultaneously buying and selling the same assets in order to artificially create the illusion of market activity? Considering the fact that the main trader of the site is Nick Adrianov, who performs the tasks directly of the BitMEX management, such an activity is definitely within his power.
Of course, BitMEX does not confirm that the exchange itself bought its own orders, but readily insists that one of their main goals is to increase liquidity on altcoins..
Traders find similarities between BitMEX and MLM
Others compare BitMEX with MMM and similar pyramids, pointing out that the exchange terminal is just an emulator of trading, since there is no fiat on it, you cannot bring it to the exchange. According to such users, no matter how many bitcoins there are on the exchange, all of them will eventually go to commission for transactions, that is, to the exchange's pocket, and the problem will arise when there are more people who want to sell BTC than those who want to buy. They also conclude that exchange traders conduct transactions with themselves..
Scandals
In addition, the name of the exchange can be heard in scandalous events. So, at the end of last year, the news that BitMEX blocked the account of the famous crypto trader Tony Weiss for suspicion of US citizenship aroused great interest on the network. Citizens of this country cannot trade on the exchange. However, many people get around this ban with a VPN..
Tony Weiss posted a referral link on his Twitter for people to register on the exchange. Almost immediately, his account with all the deposit and active transactions was blocked. The trader contacted support and indicated that he spent only 30 days in the United States for the entire year, and more than 900 actually trading users were registered using his referral link in 4 years, so referral users are half of his income. I asked to bring them out at least. To which he was advised to quickly withdraw the deposit and close open orders.
This is not the only case where BitMEX support is not responsive to traders. For this, many of them simply consider it a scam and a fraudulent site that manipulates data on its server. Detailed description of the situation[OG1] (screenshot).
That is, if in previous articles about Binance we said that the exchange has an impeccable reputation among users and constantly supports it not just by improving the site, but by participating in new charitable foundations, developing promotions and special programs, then the situation is completely different. How things really stand is anyone's guess. Whether to work on the BitMEX exchange or not is up to you at your own peril and risk..
I will say this: despite all of the above, it still remains one of the leading exchanges in terms of trading volume per day. In rubles, it is 159 839 597 133 rubles, in Bitcoin –
608 220 BTC. Therefore, it is definitely worth studying it in more detail. Let's take a quick look at the performance of the exchange, its practical advantages and disadvantages, and move on to the interface and trading.
Key indicators of the BitMex exchange
Exchange website – bitmex.com
Year of creation – 2013
Country and location – China, Hong Kong
Support service – knowledge base, online chat, ticket system in English, email, social networks, messengers
Languages ​​- English, Russian, Chinese, Japanese, Korean
Terminal – TradingView
Account types – real account, free demo account
Deposit / withdrawal of funds – Bitcoin
Assets – Bitcoin, Cardano, Bitcoin Cash, EOS Token, Ethereum, Litecoin, Tron, Ripple[OG2] 
Mobile trading – Yes
Fiat – not
Commission – Yes
affiliate program – Yes
BitMEX API – Yes
How to register on the exchange BitMEX?
Registration is unremarkable and does not differ from creating an account on other exchanges, so we will not dwell on it in detail. The main thing is to pay attention to security, since phishing has become very popular on the crypto exchange market, fraudulent sites disguise their URL as the address of the exchange and it seems that you are going to the official website of the exchange, but in fact you are giving your deposit to scammers. Therefore, the main criterion here is a secure https connection: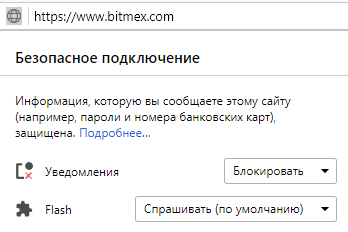 Trading on BitMEX
BitMEX is traded on XBT. This is how bitcoin is designated on the exchange. The balance of the exchange is tied to it, therefore, replenishment, withdrawal of funds and storage are possible only in XBT, you cannot use dollars or any other currency for this.

Why not the standard abbreviation BTC? The first feature of the exchange is that they trade on it not in coins, but in contracts, so here it became possible, having a bitcoin on the account, to trade in tandem with it or in general, for example, with the LTC / ETH pair. You sell and buy a contract tied to a coin. All prices, losses and profits are calculated in XBT. How much does XBT itself cost? The price is calculated as follows:
Contract price = 1 / the most profitable rate in the orderbook price
For example, today 1 bitcoin costs $ 3923, which means that the contract value in XBT will be 1/3923 = 2.5490 XBT.
At first, many are unaccustomed to the fact that, for example, if you trade with the ETH / USDT pair, then the value of contracts for such a pair is also calculated in XBT, although trading is carried out in dollars. You can read more about contracts in the BitMEX knowledge base.
BitMEX margin trading
As you already know, trading on BitMEX is margin-based, that is, it allows you to use borrowed funds against collateral – margin. Thanks to this, you can use an amount that significantly exceeds the deposit – up to 100 times. This ratio is the leverage.
For example, if you have 0.01 XBT on your balance, you can open positions up to 1 XBT secured by a deposit (0.01 XBT). It is he who is the margin, it is frozen on the balance sheet to open the deal.
Such a large leverage and the opportunity to make significant profits attract traders very much, they enter the exchange with high expectations, but in the end they are disappointed and leave negative reviews..
Why do newbies drain the deposit and what is liquidation?
So, you still have the same 0.01 XBT, and you open an order for 1 XBT. Suppose the price starts to move differently than you expected, it drops threefold and the trade price is now 0.3 XBT. But 0.01 XBT is still frozen in your account. How, in this case, the exchange can recover the loss from you?
It won't let this happen liquidation – the exchange will close the trade at a loss even before it exceeds the margin (0.01 XBT), and you have a debt. When the loss starts to approach the size of the margin, the order is instantly liquidated, and your losses will be only 1%, i.e. the trader will be left without money.
It is thanks to the liquidation algorithm that it became possible to use borrowed funds for trading without risking a huge minus. Liquidation is available on all exchanges with margin trading.
This is its main difference from ordinary trading, in which it is possible not to close a losing trade for a long time. Here it is quickly liquidated, and this is the worst thing for a cryptocurrency trader who decides to try margin trading: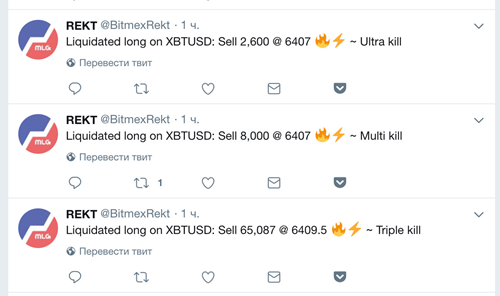 To control risks, it is necessary to correctly approach the choice of leverage.
Leverage on BitMEX
Before opening your first trade, it is important to learn one of the basic rules: the higher the leverage, the higher your risk. Leverage increases not only the profit in case of successful completion of the transaction, but also the loss in case of the opposite outcome!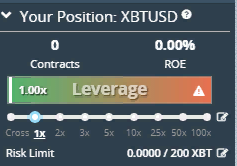 A rare professional trader will advise you to use a leverage of more than 10 to 1. And about 10, not everyone is sure. Some manage to trade profitably with great leverage. But any careless action, and there is no deposit – liquidation.
So, if you open a position at 0.2 XBT with a deposit of 0.1 XBT, your loss will be about 50% and will not reach liquidation. And if for 1 XBT, that is, 10 times more, then the allowable loss is about 10% and, as a result, liquidation.
How a deal is liquidated?
The exchange will liquidate the deal if the index has not reached the liquidation mark. This is the average cost of data from different cryptocurrency exchanges. You can view the index on this page. Why is this done? To prevent unfair liquidation of transactions through the fault of the exchange. If the cost dramatically changes its direction of movement, by 20% or more only on the BitMEX exchange due to a technical failure or manipulation, this will not lead to liquidation.
BitMEX interface
Trading is carried out in the section of the same name – Trade / Trade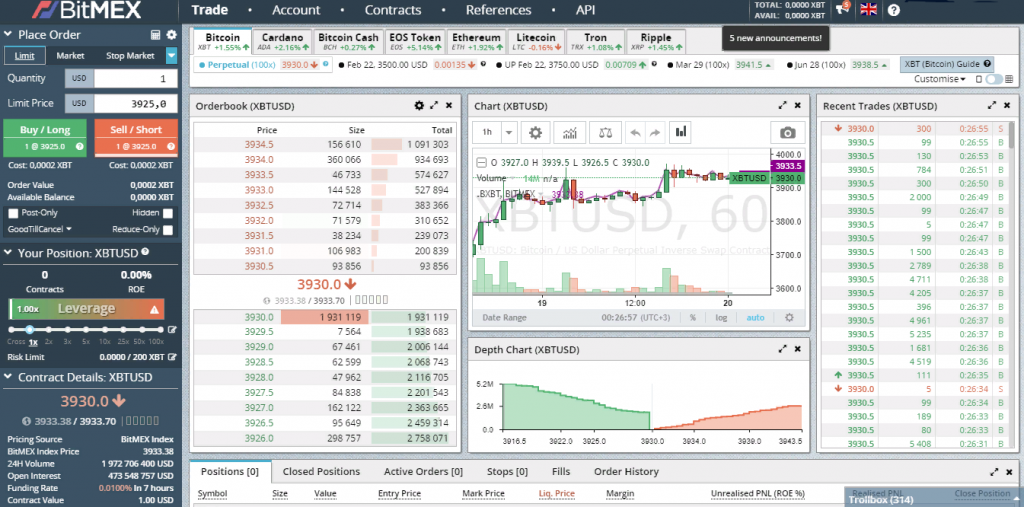 One of the important advantages of the exchange is the ability to arrange interface blocks in any convenient way. Move, move and even delete. For example, remove the Deph Chart and make the TradingView chart larger: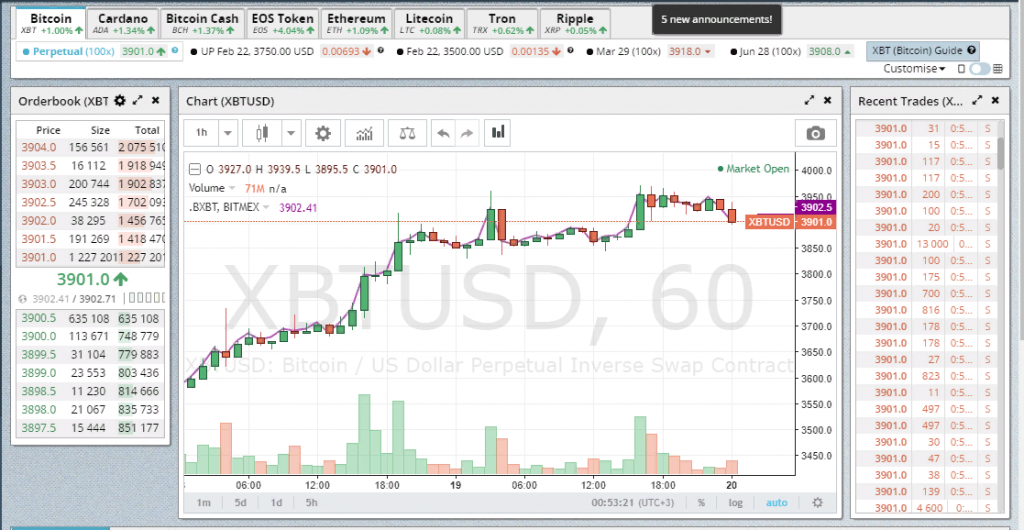 The default chart has the BXBT indicator. It represents the average price of the GDAX and Bitstamp exchanges. If necessary, you can remove it by clicking on the drop-down menu next to the indicator and selecting the lowest item "Remove".
Limit – it indicates your desired value at which you are ready to buy or sell contracts, indicated by the trader. The deal will be done on it. The disadvantage of such an order is that the market value will go far from the value you need and you will have to wait a long time for the order to be executed..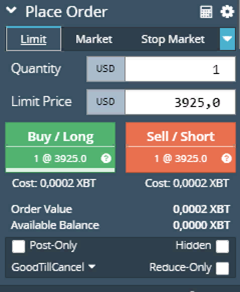 Market / Market order – instant buying or selling at a price that is currently relevant in the market.
Stop Market – when the cost reaches a certain value, the sale at the market price will be triggered.
Stop Limit – everything is like in Stop Market, only the price is set not by the market, but by you, therefore, you need to specify a specific limit price, as well as the minimum stop price – the selling price. These two numbers should be slightly different.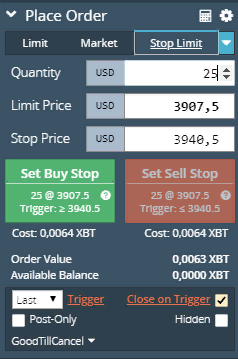 Trailing Stop – we talked about such orders in a previous article when we looked at the Binance exchange. I will not dwell here further.
Take Profit Limit / Limit order, fixing profit – sells at a fixed price. 
Take Profit Market – selling at the market price when it is reached.
Below the order window there is margin slider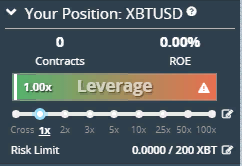 The very first point Cross calculates leverage based on your balance. 
Important! This item is very risky option, it's better never to resort to it.
Let's say your deposit is equivalent to $ 2000. You place an order for 10,000 contracts – the leverage is automatically set to 5x. It is not necessary to choose the leverage that is offered by default, you can set absolutely any.
That's all for today. In the next article, we will continue to talk about trading on BitMEX, consider everything using the example of the Limit order, analyze all the windows where the checkboxes may or may not be, since it is not clear what they are for and we will create our first order on this exchange. We will also talk about using bots and other effective tools in margin trading on this exchange. See you soon!
Good luck and good profits!