If you have heard the term "Hash Ribbons" and wondered what it is and how you can make a profit using this indicator in 3Commas, this material is for you.!
Introduction
Whether you are new to trading or consider yourself a seasoned trader, you may have heard your favorite crypto youtubers or social media influencers mention Bitcoin's Hash Ribbons from time to time. If you have ever wondered how this indicator can be useful or how it works, take a look at this article.!
What is "Hash Ribbons"?
Great question, let's dwell on it a little more..
You may already know that to create bitcoins, Bitcoin miners perform calculations and endlessly solve certain mathematical problems. The required computing power is measured in so-called hashes, and the hash rate is the aggregate of the computing power of all devices involved in creating bitcoins and ensuring network security. At the time of writing, Bitcoin has a staggering 125 Exahashes per second! That's a mind-boggling 125,000,000,000,000 attempts per second to solve a math problem for a 6.25 bitcoin reward!

Simply put, Hash Ribbons allow visualize hashrate to perform technical analysis of data using a combination of algorithms usually combined into an indicator that you can add to your Bitcoin charts on platforms such as TradingView.com.
Regular fluctuations are a common occurrence for hash rates, as new miners are constantly joining and disconnecting from the Bitcoin network, but significant fluctuations in hash rates can often be a signal to determine the potential movement of the price of Bitcoin.
How to trade Hash Ribbons?
We will consider the most popular at the moment. Hash Ribbons indicator on the TradingView platform.
This indicator works by reading raw Hash Ribbons at the end of each day and presenting it as two lines on a chart: a faster 30-day Moving Average and a slower 60-day MA..
Simply put, when the fast MA crosses the slow one above it, it indicates an increase in hash rate and usually signals an increase in the price of Bitcoin. The opposite is also true, if the fast MA crosses the slow one, dropping below the last one, the hash rate falls and the price usually follows it..
Since the Hash Ribbons indicator works on a one day timeframe, it is best suited for higher time frames, such as 1D, 2D, 3D, Weekly (weekly) and possibly Monthly (monthly) charts..
Next, we will explain how to create a 3Commas bot driven by the Hash Ribbons indicator..
How successful Hash Ribbons have been in the past?
The chart below shows just over a year of BTC / USD price action, and you can see for yourself why the Hash Ribbons indicator is so effective.!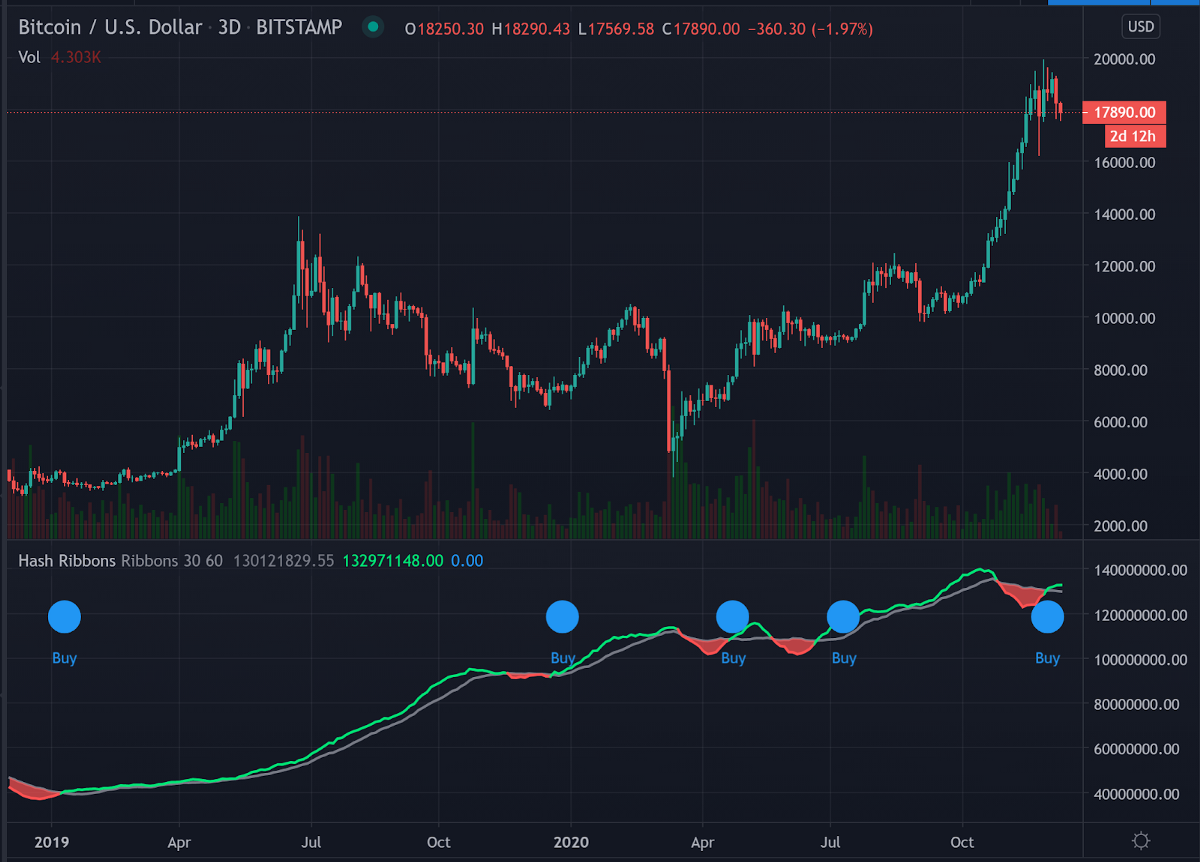 If you were buying bitcoins in the last year on the spot exchange when the Hash Ribbons indicator displays a Buy signal, every trade would be successful. In fact, this indicator is often used by long-term Bitcoin investors who use the Buy indicator signal as an opportunity to add more Bitcoin to their portfolio..
Using the Bitstamp chart for BTC / USD, you can go back to August 2011 and see the results of backtesting the Hash Ribbons indicator.
The chart below uses a weekly timeframe and logarithmic scaling to fit all the data into one screenshot: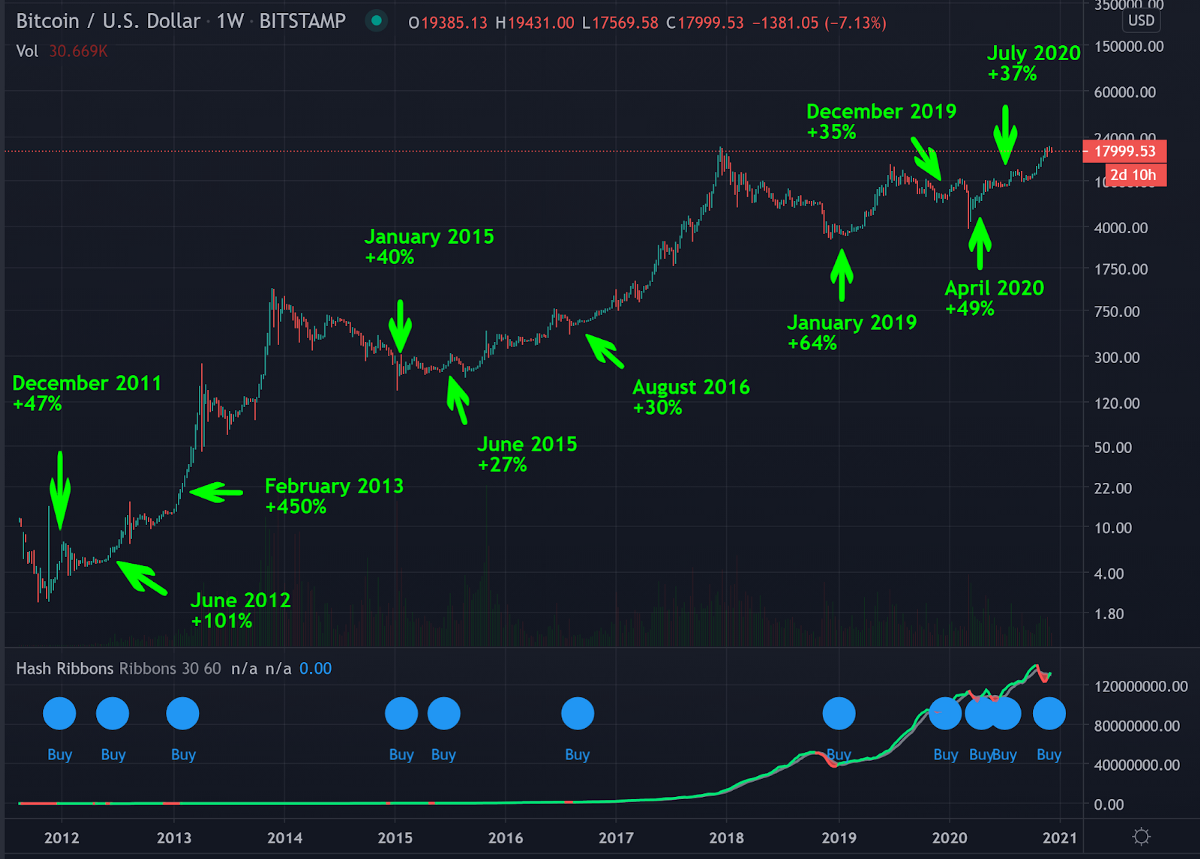 The arrows on the chart show the approximate date of the signal and a conservative estimate for the weekly close (entry) and exit at the next local peak before the red candlestick. If you were "trend following" during the August 2016 bull run, selling at its peak would bring you an incredible 2,450%!
Stop … What about the last buy signal?
Well noticed! It's worth noting that no indicator can offer 100% success and professional traders will be the first to point out that you should never rely on one indicator as the basis for all your trading decisions..
It is too early to start the current Bitcoin bullish cycle, and while it might appear that the asset price has dropped since the last Hash Ribbons Buy signal, it is time to pay attention and start looking at the 4-hour and 1-day time frames in anticipation of the recovery. prices, and create a trading plan to enter a long position.
Alternatively, you can take advantage of the 3Commas DCA bots and use Hash Ribbons to tell the bot to start trading when a Buy signal is triggered, as well as use safety orders to average position entries.!
Binding the Hash Ribbons indicator to the DCA Bot 3Commas 
Go to the menu DCA Bot (1) and press the button Create a bot (2).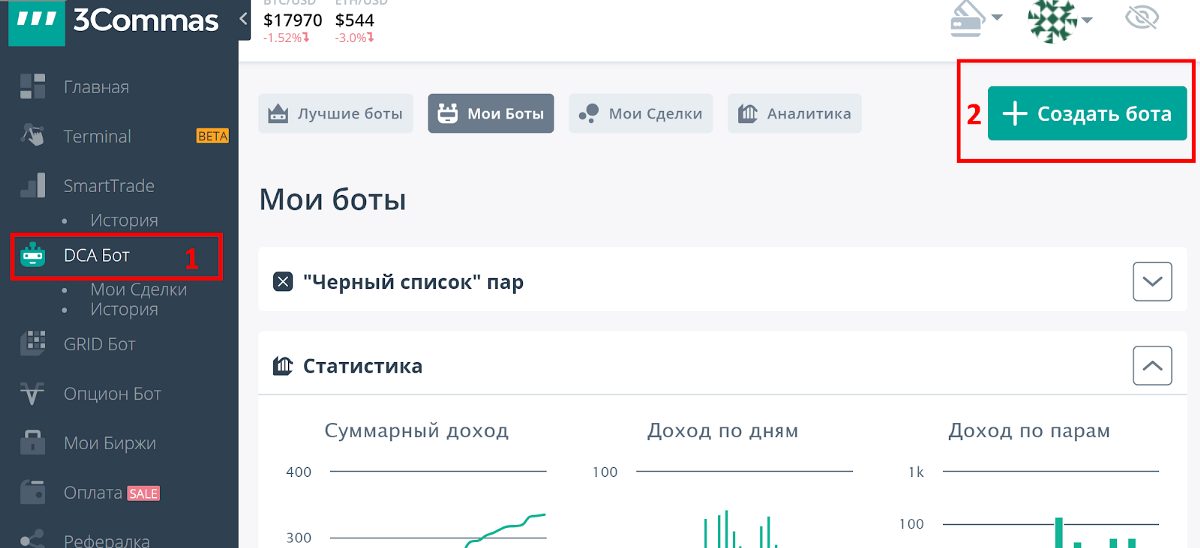 In section Main settings (3) enter the bot name, select the exchange you want to trade on, as well as the BTC / USD or BTC / USDT pair (depending on which one your exchange or region supports as a trading pair). We will choose to create a Simple bot, since we are interested in trading only one pair.
In the panel Strategy (4) we will choose LONG and currency Quote (for fixing profit in USD / USDT). We will use a limit order to open a position, as this can save on fees on most exchanges..
Let's set the size of the Base and Safety Orders at $ 100, but you can adjust this according to your level of risk tolerance and the funds available for trading: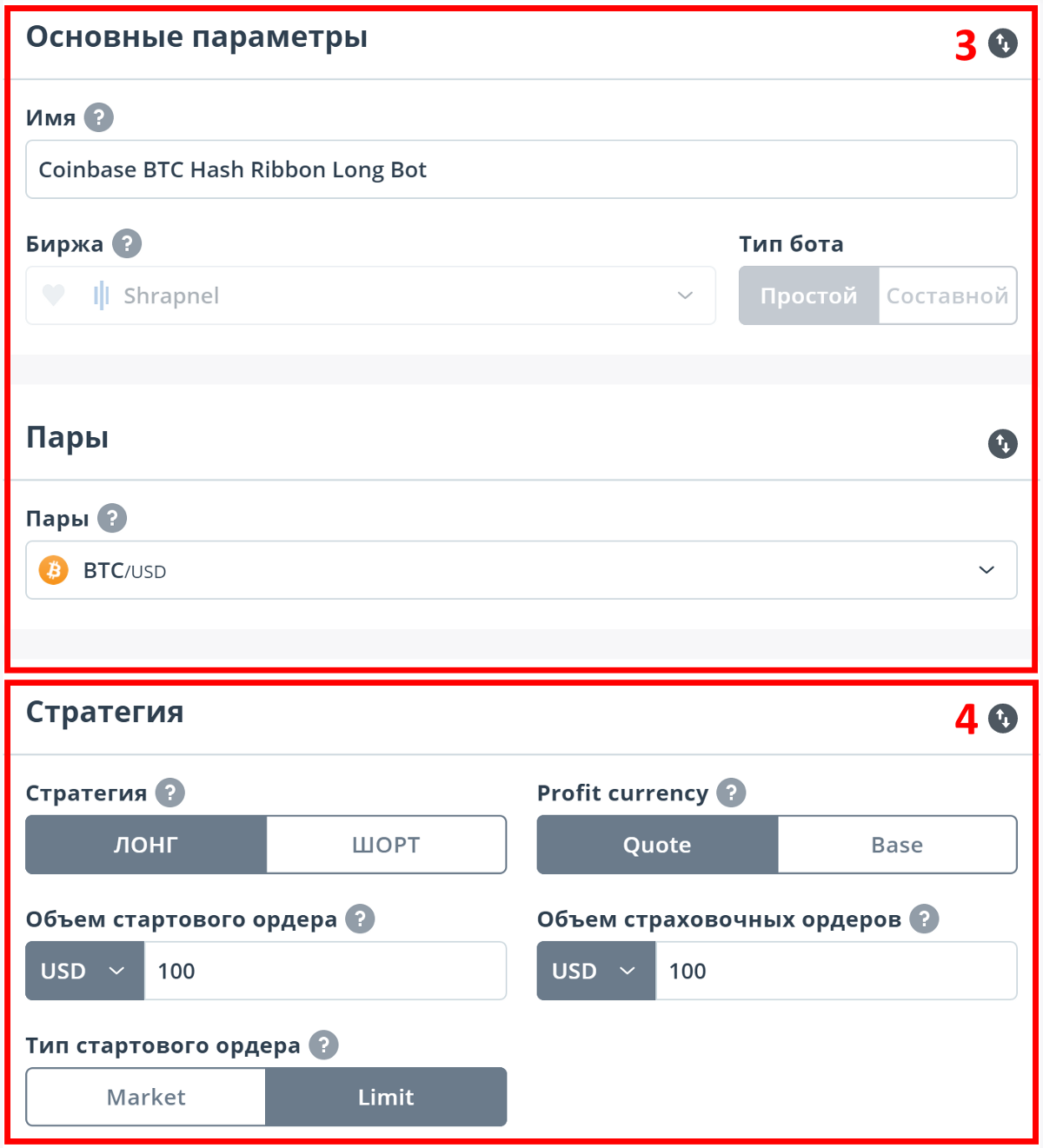 In section Conditions for starting a deal (5) select "TradingView Personal Signal", set Target yield (%) (6) at a conservative level of 10%, if you wish, you can activate a trailing take profit.
We will disable Stop Loss (7).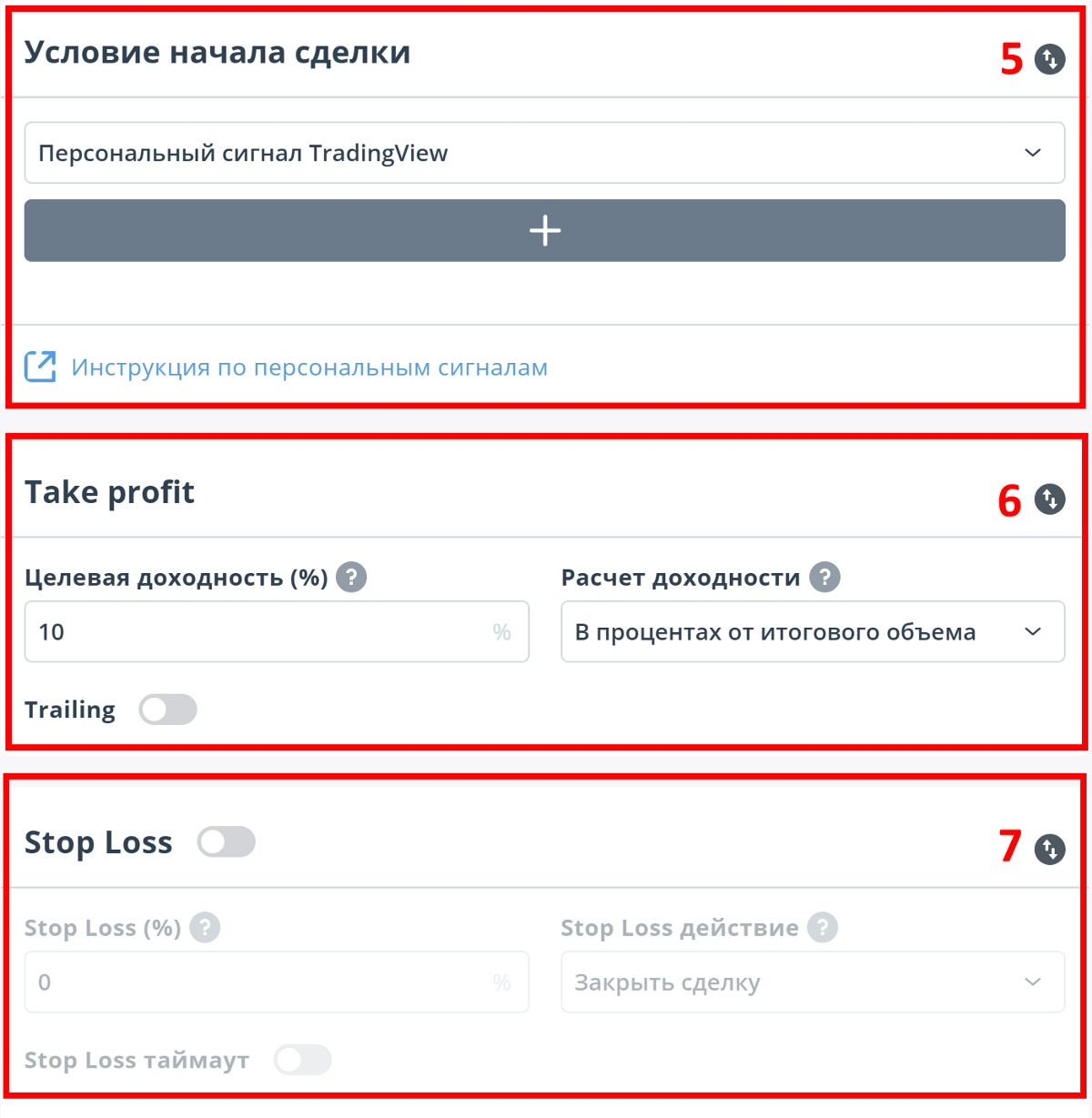 We will install Safety orders (8) by programming a maximum of 3 safety orders and 3 simultaneously active safety orders. We will also set a price variance to place each safety order at 5%.
We will increase the volume of safety orders to 2 and set the safety order step multiplier to 1.
You can pay attention to Assistant (9), which in this case will tell you that we are using a maximum of about $ 800 for this trade. At the same time, our settings of the "Averaging the dollar value" safety order will allow us to benefit in the event of a 15% fall in the BTC price and benefit from any drawdown on the chart after opening a trade..
Now you can Save (10) bot.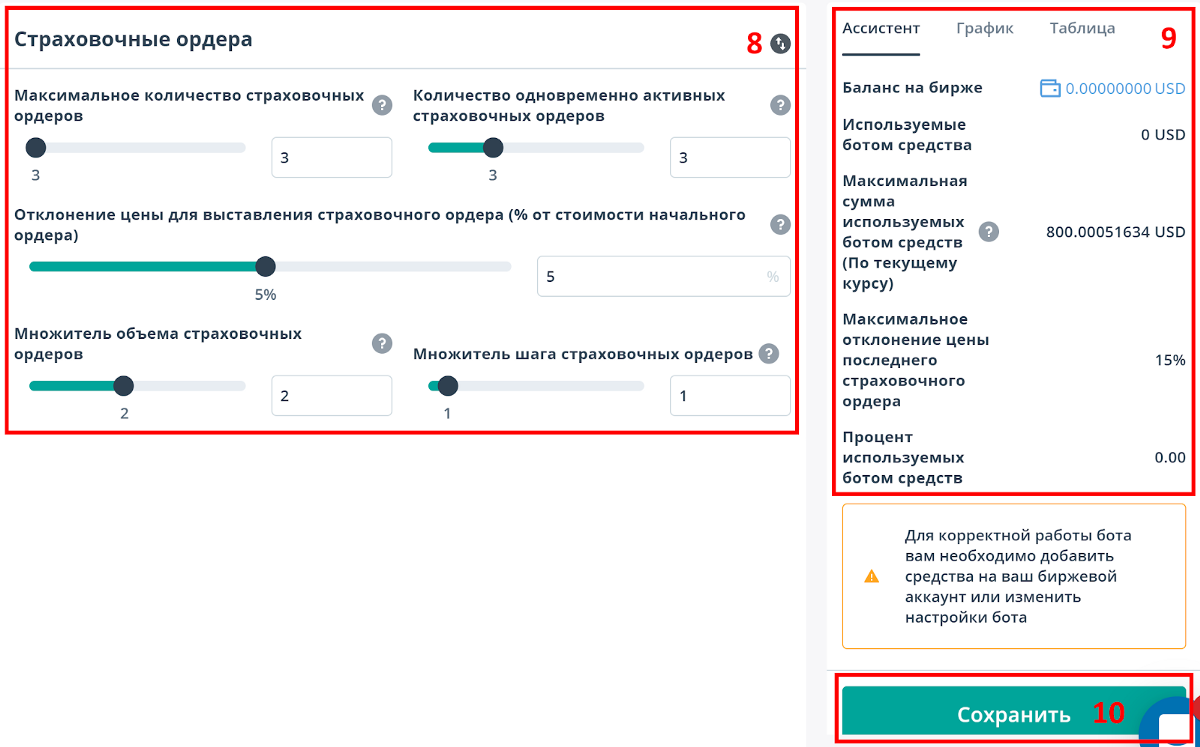 When you see the question "do you want to launch a new bot", click the button Start, and you will return to the page Information. Scroll down this page and copy the "trade start signal message" simply by left-clicking on the blue text once: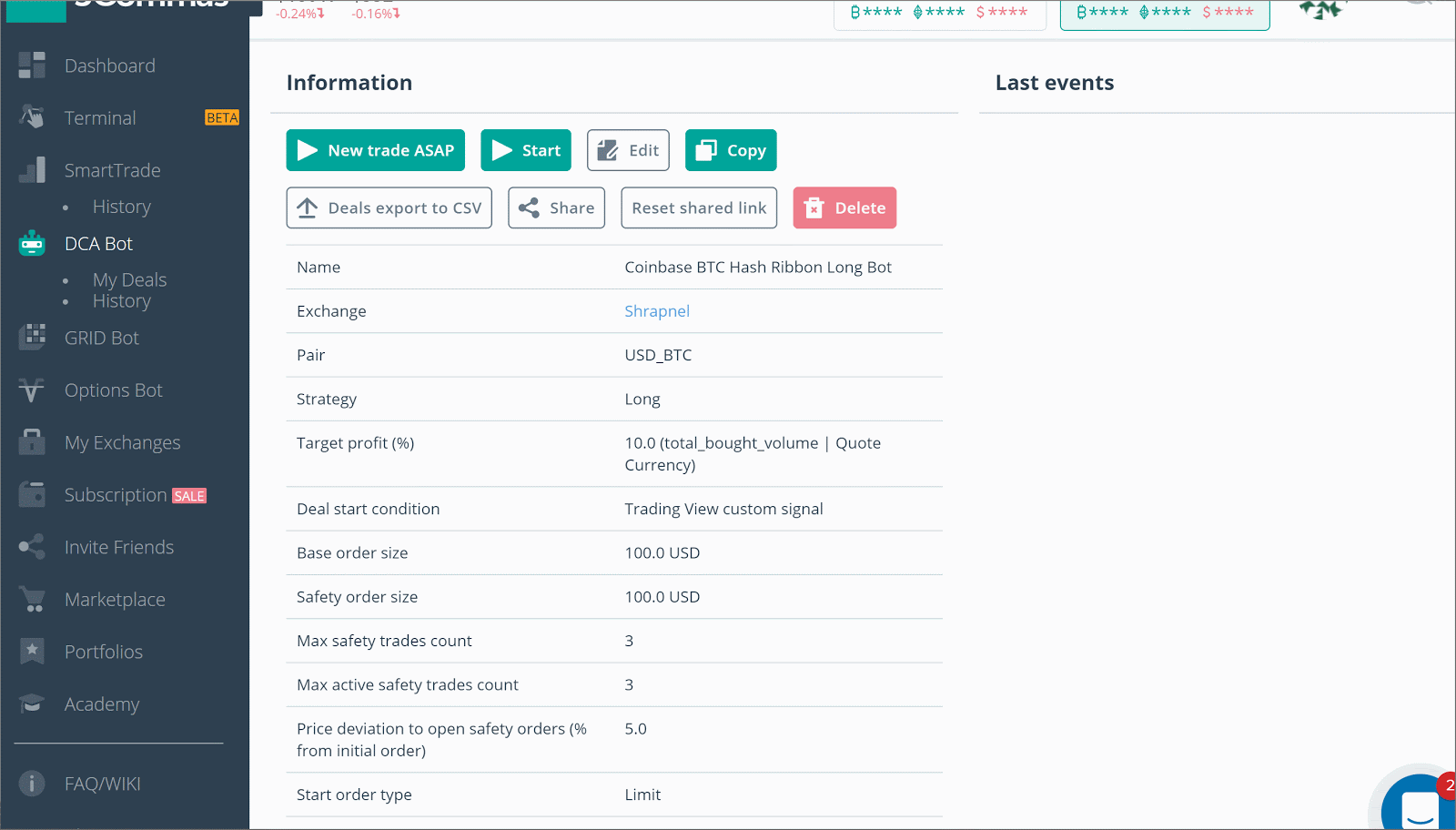 Now open TradingView.com in a new browser tab and login.
Open a BTCUSD or BTCUSDT chart on a 1D timeframe, on the exchange you are using (1), click the "Indicator" button (2), enter "Hash Ribbon"And select the indicator provided by" capriole_charles "(3):

Click on the Alarm icon to create a new one notification (four).
For settings Conditions select the "Hash Ribbons" indicator and the "Alert – Buy" trigger, then select the "Once per bar (to close)" (five).
Some TradingView subscription levels limit your options to a fixed expiration time the expiration date of the alert, please pay attention to this as the alert should be reset every month or so (6).
In section Actions (7) select the webhook url and enter: https://3commas.io/trade_signal/trading_view. 
Note: The webhook URL is not a webpage, so please do not click on the link in an attempt to visit it!
Finally, in the field "Message"(7) paste the previously copied message from the bot from our page"Bot information"And press the button"Create a" (8):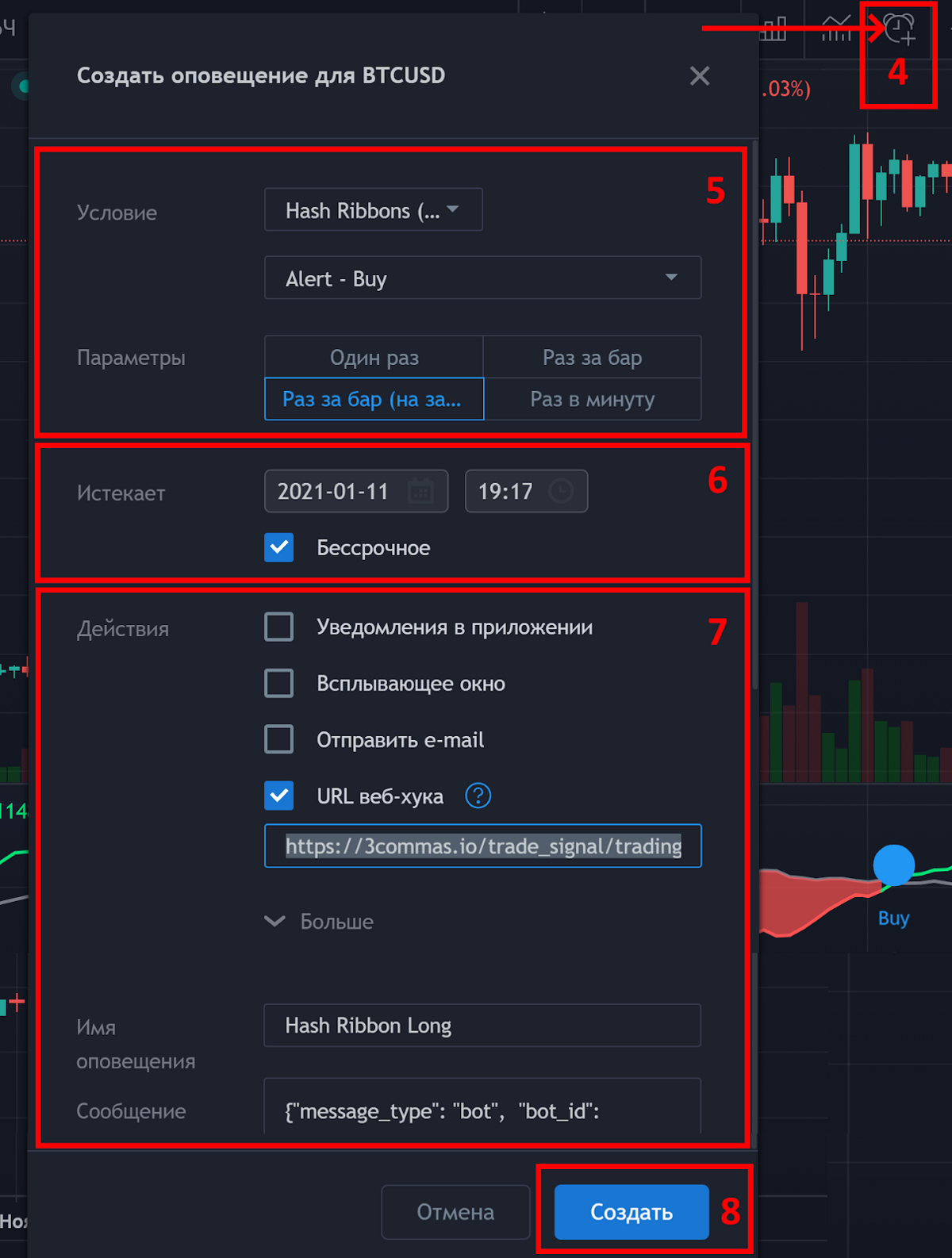 Fine!
You have created your bot and linked it to the Hash Ribbons indicator. All you have to do now is wait until the next signal is triggered and your bot will automatically create a trade on the exchange of your choice! You can let the bot manage the trade until it closes with a 10% profit, or re-evaluate after opening the trade if you want to use the Convert to SmartTrade option and use it as a longer term trade aimed at generating even more profit , with an excellent entry price achieved by your trusty 3Commas bot!
Note: Trading cryptocurrencies is inherently risky, and while the returns can be quite high, it is important to keep the risks in mind. If the price of the asset you are trading drops sharply, you may lose part of your investment, being forced to sell the asset at a lower price. 3Commas Blog Posts are written for educational purposes and should not be construed as "Financial Advice".