Many crypto media are full of headlines about the growth and development of ecosystem blockchain platforms. Most often we happen to read mentions of products based on Ethereum, as well as competing Polkadot or Cosmos. Much less often we come across materials about other structural blockchains, which are increasingly being considered for migration by decentralized projects that are not satisfied with the current speed, scalability or transaction costs in the most popular networks. At the same time, many of them are able, if not to seize leadership in the near future, then certainly to show off innovative technologies and bring new trends to the market. As the proverb says, "Forewarned is forearmed", so we have prepared for you an analysis of the Solana ecosystem, which is growing at an incredible pace and already holds the palm in terms of bandwidth among all operating blockchains.. 
First, let's talk about what Solana is
Solana Is a high-speed, single-tier blockchain currently supporting peak throughput 59,000+ TPS and block time 400 ms. The Solana blockchain is built to scale transaction throughput according to Moore's Law (doubling the number of GPU cores every ~ 2 years). To achieve this bandwidth, no no sharding. Solana was not named for nothing the first web-scale blockchain, After all, this ultra-fast, secure and scalable network is the most powerful in the world and is specially designed for high frequency and large-scale applications. Achieving these goals requires the implementation of several optimizations and new technologies. As a result, we can observe a breakthrough in network bandwidth, which signals a new stage in the development of blockchain technologies.. 
Why Choose Solana?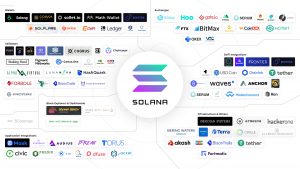 Solana solves one of the main challenges of the technology: scaling the blockchain for global use and provides the ability to interconnect ecosystem projects, maintaining a single global state as the network scales. At the same time, no additional complications are introduced using sharding or second-level solutions. Solana's lightning speed without a mempool and low fees (1 million transactions for about $ 10) scale as the ecosystem grows without compromising censorship or security resistance, allowing developers to focus on their business rather than their blockchain infrastructure. There is no longer any need to choose between scalability, security and decentralization. Solana solved this trilemma for you. The creators of the Solana Labs protocol have the experience of the best companies in the world such as Apple, Qualcomm, Intel, Google, Microsoft and others. In fact, Solana is a real Web 3.0 at the speed of Web 2.0, the best and most visible teams in the blockchain and corporate sector choose Solana for long-term cooperation now. By the way, you can easily verify the speed of Solana with special stress test of the network in the form of a Break game. 
What projects form the basis of the Solana ecosystem?
Serum
A few months ago, a leading crypto derivatives exchange FTX and Alameda Research launched project Serum, the world's first fully fledged decentralized spot and derivatives exchange. Serum is different from others, and this is its strength. Its software allows for fast DEX trades; it supports cross-chain, stablecoins, wrap for BTC, BCH, BSV, LTC, ZEC, ETH and ERC-20 tokens, order books and the ability to create your own and new financial products. Unlike current DeFi products, it's fast and cheap. The architecture is tuned to support node operators with incentives to stake through SRM inflation, trade commissions, and a delegation / referral system called "leaders".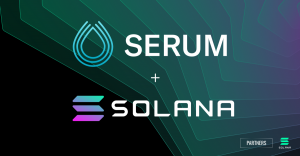 In addition to these FTX and Alameda Research, Serum's main partners include such well-known companies in the crypto industry as 3Commas, Akg Ventures, Certus One, Genesis Block and others. Many of them are also Serum validators.
Wormhole 
Wormhole connecting Solana and Ethereum – the freshest and most striking example of a trustless bridge. This is only the first of many planned cross-chain bridges at Solana. It converts ETH and ERC-20 tokens to SPL tokens on the Solana blockchain, allowing existing projects and platforms to reliably move assets between networks, while taking full advantage of the ultra-fast and secure Web-scale blockchain. Moving to Solana negates network congestion or high transaction fees and still allows the value of the Ethereum network to be reclaimed if needed.
Akash
Akash is the first decentralized cloud computing platform. The goal of the Akash platform is to efficiently use 85% of computing resources in 8.4 million data centers. Akash allows anyone to buy and sell unused capacity. The platform offers a unique set of offerings for customers currently using the cloud. Akash and Solana plan to ensure interoperability by allowing services in each ecosystem to settle with Akash Token (AKT) or Solana (SOL). Front-end applications that interact with Solana smart contracts can now run in a decentralized cloud (instead of the current model that relies on centralized cloud providers such as Amazon Web Services (AWS) or Google Cloud Platform (GCP)), making them truly censorship resistant.
Stardust
Stardust allows game developers to increase their income (through NFTs, marketplaces, etc.) and improve the player's gaming experience. Developers can connect to the secondary revenue sharing market and game explorer of the Stardust Platform through our API and blockchain infrastructure. Fast Statistics: Seed Funding from Blockchain Capital. The largest game using their services has an average of 50,000 to 70,000 monthly active users and has over 750,000 players in the past 12 months.
Terra
Terra is a thriving payments network backed by a basket of stablecoins pegged to the world's largest currencies. Today, these stablecoins mostly pass through Terra's flagship app CHAI, which has 1 million active users and over 3 million. USD of daily transaction volume. Terra is backed by an impressive team and some of the world's best investors.
Anchor
Anchor is a two-way platform for PoS token holders. The system offers savings accounts and loan services. The new governance token will likely be named Anchor, just like the platform itself. It will be distributed for five years, and the creators of Anchor will have no pre-mining. Similar to Compound or MakerDAO, Anchor will allow PoS holders to deposit assets on their platform. They will serve as collateral for stablecoin loans (initially, most likely, these will be mainly stablecoins created with Terra).
Audius
Audius is a decentralized music sharing and streaming protocol that simplifies direct transactions between listeners and creators, giving everyone the freedom to distribute, monetize, and stream any audio content. To meet the growing demand, the Audius team has designed and built a proof of concept with over 20 L1 and L2 scaling solutions. Following this research, Audius selected Solana to help scale the network. Audius plans to migrate Audius Content Management System (CMS) to Solana blockchain over the next year.
RAMP DEFI
Backed by world-class investors, RAMP DEFI is a global decentralized finance solution that focuses on unlocking liquid capital from staked digital assets. With the RAMP solution, users with staking assets can continue to receive staking rewards, maintain capital gains potential in their staking portfolio, and unlock liquid capital to simultaneously invest in new opportunities. The available market for staking assets today is over $ 25 billion. As an industry-leading solution, RAMP DEFI aims to unlock $ 1 billion or more to users by the end of 2021 under 'Total Unlocked Value' (TVU).
Circle (USDC)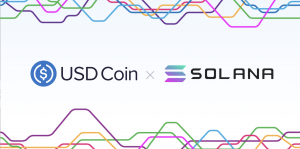 Circle integrates USDC with Solana blockchain. USDC – one of the fastest growing stablecoins USD with full reserve in the crypto ecosystem. It is based on open standards and is operated by the Center consortium of Coinbase and Circle. More than 2.8 billion USDC have been issued to date, and hundreds of crypto apps rely on USDC for fast and secure payments. USDC plays a critical role in DeFi as one of the most popular types of collateral used in decentralized lending platforms, alternative savings accounts, decentralized exchanges, and more. Circle Platform, USDC, and Solana Foundation Collaborate Opens Space for DeFi Product Design. 
Tether
USDT is the largest stablecoin by market capitalization and one of the most widely used stablecoins in the DeFi sector. Tether and USDT are critical infrastructure building blocks for any successful blockchain project and are some of the most critical building blocks for cross-platform settlement. This strategic initiative is an important step for Solana and will help grow the network. Both projects are step-by-step improvements to the current situation. Speed ​​and cost are the two biggest obstacles holding back DeFi today. This new initiative will open up a whole new space for stablecoin design and use cases in the DeFi ecosystem..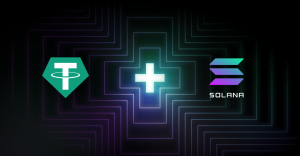 Arweave
Arweave is a type of storage that provides reliable and persistent data backing, allowing users and developers to keep data forever. Arweave is a shared hard drive that allows you to remember and store valuable app information and history indefinitely. 
Torus
Torus provides one-click login to DApps via your Google, Facebook, Reddit, Discord, Twitch or Email user accounts without additional installation. The Torus network is currently supported by a group of validators from Binance, Etherscan, ENS, Tendermint and other stakeholders. Torus solution is compatible with any blockchain.
Pocket
Pocket Network was created as an inclusive relay network for API requests to most blockchains. The project will integrate with Solana to leverage cryptographic primitives in a new censorship-resistant Web 3.0 technology suite.
dFuse
dFuse is a blockchain API company that allows real-time streaming of state updates, instant lookups and guarantees of irreversible transactions using a simple API call. dFuse implements its API solution in Solana to allow developers to easily build and maintain efficient applications over the protocol. 
Fortmatic 
Fortmatic has created a development kit (SDK) that enables users to access decentralized applications using a phone number or email address, without having to install browser extensions. Fortmatic integrates its SDK into Solana to provide easy-to-use alternatives to Web 3.0 wallets (such as MetaMask) for end users and developers.
Civic
Civic is a decentralized identity identification ecosystem that enables identity verification in a secure and cost effective way. Civic has partnered with Solana to integrate a decentralized identity solution. They work together to provide low-cost and scalable identity management in emerging economies without such infrastructure..
Hummingbot
Hummingbot is an open source software trading client that allows you to trade cryptocurrencies using high frequency trading strategies such as market making and arbitrage. Hummingbot is working with Solana to integrate its Liquidity Mining solution so that miners / traders can earn commission fees by providing Solana with liquidity on various exchanges. 
Final thoughts
The Solana ecosystem is growing very quickly as it has so many positives compared to Ethereum or others. If DeFi projects begin to move into an ecosystem where such fast and inexpensive transactions are possible, the surge in interest in cryptocurrencies may soon intensify even more, because positive experiences will play a significant role in this process.. 
Unlike many other alternatives, Solana does not bolster itself as an "Ethereum killer". These technologies can coexist and work together to build something great. This is the whole point of interaction.